Select your meal plan
Muscle Gain Plan
Meals higher in calories and carbohydrates to fuel higher activity levels and support muscle gain.
Daily Macros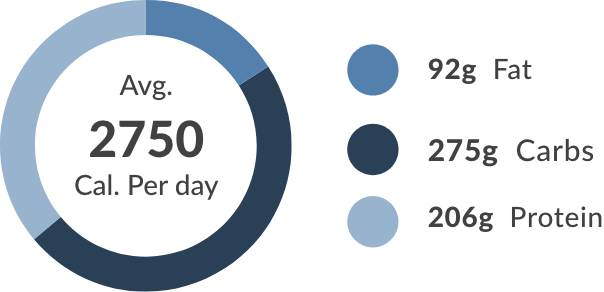 Weight Loss Plan
Meals lower in calories and carbs to support weight loss.
Daily Macros
Introducing a meal plan option that's:
Protien-Packed Meals
Balanced macros
On-plan Nutrition, Zero Hassle
Substantial Portions
Ready in 3 minutes
On the Menu
Meals with nutritionally designed macro-nutrient to fuel your goals.
Real Food. Real Results.
Our Customers Love How Fuel Meals Has Helped Them Transform Their Bodies and Health.
We only use high quality ingredients in every meal. We support local vendors and aim to purchase the highest quality ingredients. All of our meat is hormone and anti-biotic free, our fish is wild caught and our vegetables are sourced locally and are organic-pesticide free.
We use custom insulated coolers during shipment to keep your food tasty and fresh! Our custom packaging is designed to extend the shelf life of your meals. We seal each meal with our custom modified atmospheric packaging. All meals will remain fresh for 7 days in the fridge following delivery. Meals can be frozen to maintain freshness for longer periods of time.
Yes we ship via FedEx, as long as the hotel is in the US and does accept packages for guests. When you are placing your order you will want to make sure that you check out our shipping schedule, which can be found in our FAQ section. If you are on a subscription you will want to make sure that you update your billing address to the desired location. If the room is not under your name and is under the name of a spouse, mother, brother, etc. make sure you include that name as part of the shipping address. Hotels will not accept a package if the name on the package does not match up with the name on the reservation. All we ask is that you inform your hotel prior to arrival that you will be expecting a package.
At Fuel Meals we stand behind our product 100%. If your meals are damaged please take a photo of the meals in question and email them to info@fuelmeals.com. We can issue you a coupon for the monetary value of the meals to be used towards a future order. Contact us at info@fuelmeals.com or call us at 1-844-EAT-FUEL to have a coupon issued. If a meal arrives with a small incision on the plastic seal this is not considered damage. Damaged meals are specifically meals that are entirely open with the contents of them outside of the original meal tray.